---
Operations
---
Stay on track to achieving your business goals.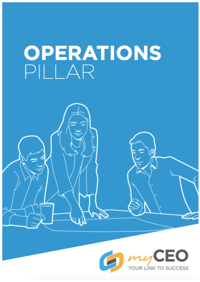 Download our FREE eBook, The Operations Pillar, and start transitioning from working IN your business to working ON your business. Get crucial insights into how to manage your resources and create sustainable business growth. In particular, this eBook will discuss:
Why it's important to run an autonomous business;
The creation of systems, processes and internal controls that guide day-to-day operations;
Making the right decisions with margins and business efficiency in mind;
myCEO's role in streamlining your operations and supporting your business' growth and stability; and much more!
When properly streamlined, your business operations can lead to long-term growth. From system assessment through to your day-to-day operations, running a tight ship is crucial for your success. Get started by filling in the form and downloading The Operations Pillar eBook today!
Enter your details in the form to download the Operations Book.